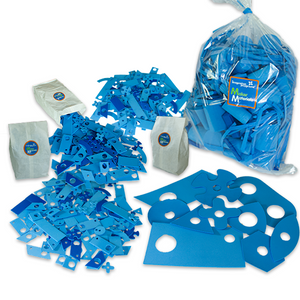 Classroom Maker Kit
Regular price
$ 59.99
$ 0.00
Unit price
per
Introducing Imagination Playground's NEW Maker Kits
These new prepackaged kits were designed to use the cast off material from the US manufacturing process. These kits are a great way to recycle and deliver fun and engaging pieces to any maker program for economical prices. 

Each kit includes a bag of 120 small skins (each approximately the size of a silver dollar) plus 10 Medium shapes that can be used in crafts or on the wall as decoration. Each medium piece is approximately 12" long. In the larger kits, big shapes are included that can measure up to 24" long. 
The bulk bags can include everything from misshaped blocks, strips of foam as well as foam sheets. Each bag is unique so it is a surprise every time!
Classroom Maker Kit includes:
3 Maker Kits
4 Big Shapes
1 Bag of Bulk Pieces
Enough Pieces for up to 40 kids (just $1.25 per child)